2008
from Poland to Stockholm Archipelago, where there is a habit of mooring "bow to rock" securing yacht with the anchor dropped behind.
Bjorkskars - the taste of the Stockholm Archipelago, Sweden, Baltic Sea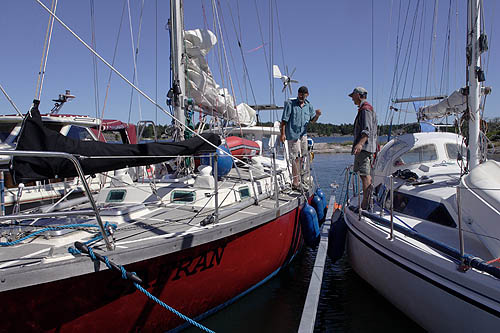 Arkosund Sweden, with our friend on another yacht from Gdansk
Biskopson skerries - close to Nynashamn, one of the most beautiful bays there
Biskopson again - we are moored to a really high rock on a shallow water full of underwater stones.
Bjorkskars - a little archipelago in outer Stockholm Skerries.
Burgsviken - we had to stay here for 3 days because of 8B storm - that's why we have 4 lines from the bow.
Entering Dragetskanal - a 6 metres wide and sometimes less than 2 m deep channel
Leaving Dragetskanal
Bow ladder is very useful in the skerries
Harstena - there is a very safe bay there
Lunch in a huge Safran's cockpit
Hel harbour on Hel peninsula near Gdansk, Poland
Wlodek
Loftahammar - a small marina in Sweden
A popular bay - Napoleonviken not far from Stockholm
American mink (Mustela vison) a common animal living on the shores
Agnieszka
Beautiful day
Safran
Safran again
Pulling the anchor chain
One of the most beautiful anchorages - Alo island not far from Kalmarsund
Asskaren - a tiny archipelago where we spent 2 days with our friends. No other people.
In Scandinavian archipelagos You grab what You can!
A seal on a dangerous rock
Where there are no trees You have to take the mooring hooks with You
Kroko near Vastervik
Idyllic anchorage
Baltic is cold sometimes
Welcome to Stockholm
Stockholm - Vasahamn - Wlodek - the bold one, and Agnieszka - that beautiful woman without glasses.
This is a place for motor boats and ... Safran - Water 0.8 - 1.3 m deep. This long for 1 mile bay has an entrance with depht around 1.7 metre.